Nestled on Vancouver Island's west coast, Ucluelet whispers the tales of the Pacific - tales of misty mornings, wild coastlines, and a community that is as enduring as the rugged cliffs it calls home. Originally inhabited by the Nuu-chah-nulth First Nations, Ucluelet means "people of the safe harbour." With a population of approximately 1,800, this small town community is full of charm and beauty. Let's embark on a journey through what a day in Ucluelet could look like for you.
Morning Rituals
Wake-up to Nature's Soundtrack
The dawn in Ucluelet isn't just an event; it's an orchestra. As the first rays of the sun pierce through the thick mist, the symphony begins - waves passionately crashing onto the shores, birds chirping as if sharing morning tales, and in the distance, the occasional bark of sea lions. It's nature's alarm clock, gentle yet invigorating.
Coffee and Ocean Views
A stroll down to one of the local cafés becomes a ritual. With a cup of freshly brewed coffee, you're not just sipping a beverage; you're soaking in ocean views and watching fishing boats wade through the misty waters. Ucluelet cafés don't just serve caffeine; they offer a slice of Ucluelet life.
The Barkely Cafe, a warm laid-back family-run café, opens promptly at 7:00 am every morning and offers baked goods, bagels, egg sandwiches, and coffee drinks to get you started in your day.
If you're looking for a vegan option, the Yayu Cafe is the place for you. With 100% plant-powered coffee, specialty drinks, smoothies, and delicious breakfast and lunch menus, you can find Yayu Cafe on 250 Main Street.
Morning Activities: Hiking, Beach Walking, Fishing, Harbour Views
After a rejuvenating start, it's time to engage with the day. Many locals take to the Wild Pacific Trail, a winding path offering breathtaking vistas at every turn. One of our favourite views can be found on the Lighthouse Loop section of the trail, offering impressive vistas of Barkley Sound and Amphitrite Lighthouse.
Others head to the beaches, combing the sands for treasures washed ashore or exploring tidepools that teem with marine life. Our favourite local Ucluelet beaches include:
Big Beach: This western facing beach, located at the foot of Matterson Drive and just a short walk from the town of Ucluelet, offers a fantastic place to watch the sunset. Big Beach is a warm sandy beach with volcanic rocks with access to the Wild Pacific Trail. Residents and tourists can enjoy a sheltered picnic area.
Little Beach: This beach is located south of Big Beach and close to town. Named as a BC Heritage Site due to the archaeological findings of old First Nations midden, Little Beach is located along the Wild Pacific Trail. This small beach is sheltered and offers wonderful views of the ocean shoreline.
Terrace Beach: Located close to Little Beach, Terrace Beach stands as a quiet sandy public beach. It is situated near a forest close to the Wild Pacific Trail's Terrace Beach Interpretive Trail. Terrace Beach also stands between He Tin Kis Park and Terrace Beach Park.
For those who call the sea their true home, morning fishing trips to the Ucluelet Harbour are a daily pilgrimage.
Afternoon Delights
Local Culinary Scene
By the time afternoon rolls around, Ucluelet's eateries beckon. Fresh seafood is a staple. Whether it's salmon, halibut, or Dungeness crab, the flavors are as authentic as the hands that catch them. Local spots pride themselves on farm-to-table philosophies. You can taste the freshness of locally-sourced ingredients with every bite.
Some of our favourite places to eat in town include:
Frankie's Resto-Bar Restaurant: Residents enjoy fabulous views of the Ucluelet Harbour and an outdoor seasonal patio. Savour Frankie's BBQ, various meat, seafood, and pasta options.
Jiggers: Fish & Chips: This charming food truck is known for their Fish Chips, made with locally caught fish. With access to fresh catch in the ocean so close by and great produce from local farmers, Jiggers uses the freshest ingredients possible. Just note that the truck accepts cash only.
Cedar Grill: This family run restaurant offers delicious scramblers and wraps from 11am-2pm. If you're craving seafood options, Cedars serves a savoury wild sockeye salmon baked with a maple soya glaze, a Wild Pacific Pasta with salmon, ling cod, prawns, scallops and mussels in a tomato basil sauce, and a Salmon Pesto Alfredo, made with wild sockeye smoked salmon.
Is anyone hungry?
Engaging with the Community
Afternoons often resonate with the hum of community life. The local market bustles with activity - artisans showcasing their crafts, farmers selling their freshest produce, and musicians strumming away, providing a melodious backdrop. It's not just commerce; it's a celebration of Ucluelet's spirit. Supporting local is not a trend here; it's a way of life.
Ucluelet Market: "Grow it. Make it. Gather it. Bake it." Come on Sundays from 10am-2pm in the local Village Green in the heart of Ucluelet. Residents and tourists alike are treated to live music and a myriad of local vendors and artisans.
Pacific Rim Whale Festival: This beloved annual festival occurs every March and celebrates the return of Pacific Grey Whales to the West coast of Vancouver Island on their Northern migration route. Lasting a whole week-long, visitors are treated to a number of fun and exciting events throughout the area, including Tofino and the Pacific Rim National Park Reserve.
Ukee Days: Ready for a local festival celebrating West coast life? Ukee Days is a 3-day weekend long festival that features logger sports demonstrations, live music and performances, delicious food and retail vendors, a parade, beer gardens, and West Coast BBQ. On top of that, guests can watch and participate in many unique and fun unique contests. Meet you on the fairgrounds!
Adventures and Exploration
For the adventurous souls, Ucluelet offers a myriad of activities. You could find yourself sea kayaking amidst the islets or learning to ride the Pacific waves with a surfboard. And if you're lucky, an afternoon might just gift you the sight of eagles soaring high or a pod of orcas cutting through the blue.
Kayaking: Residents looking to treat themselves to a more organized ocean kayaking tour can treat themselves to Majestic Ocean Kayaking. Their adventure tours take you on day trips in Ucluelet, Barkley Sound and the Broken Group Islands of the Pacific Rim National Park Reserve.
Surfing: Grab your wetsuit and tackle some waves! Only a 10-minute drive from Ucluelet, Florencia Bay is the closest beach to Ukee. Another favourite surfing spot is Wickaninnish Beach, about 15 minutes from Ucluelet. On top of being a great storm watching destination, Long Beach offers some pretty sick waves for experienced surfers.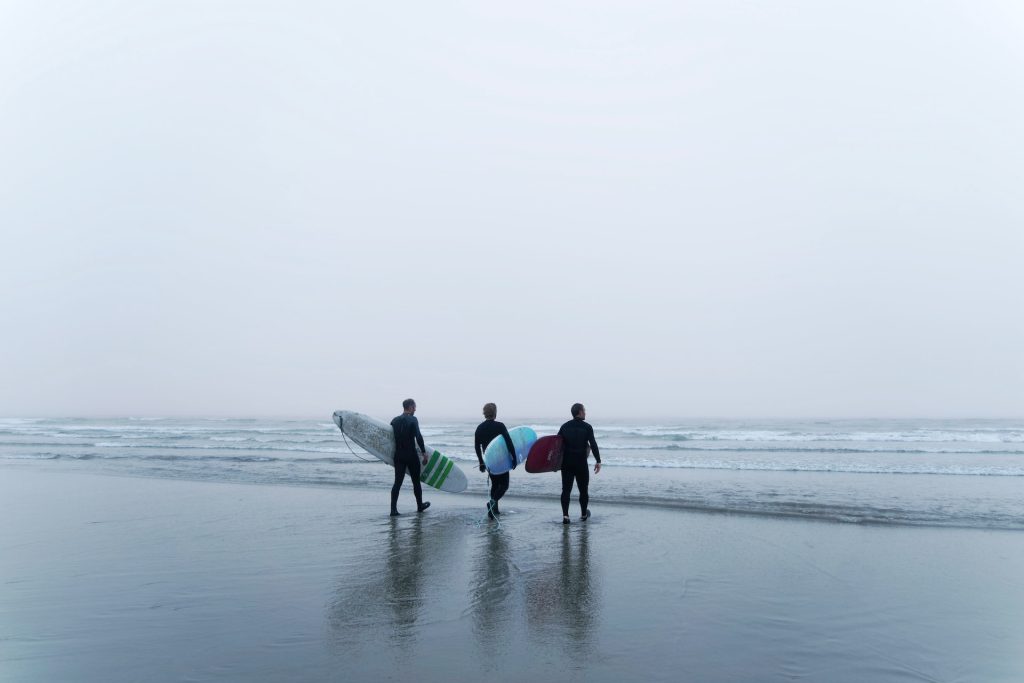 Bird Watching: Ucluelet is known for its abundant bird life, both coastline and forest species, making it a dream for bird watching enthusiasts. If you're near the water, you could watch a glimpse of a great blue heron, a bald eagle, a belted kingfisher, and others.
Whale Watching: In March, the Pacific Rim Whale Festival celebrates the annual Grey Whale migration. Nearly 20,000 Grey Whales can be spotted on their return to the area from the Baja Peninsula, where they breed, before they head to their summer feeding grounds near the Arctic. Whale watching season in Ucluelet extends from March to November where whale enthusiasts can also spot Humpback whales and Orcas.
Evening and Nightfall
Dinner by the Ocean
As the sun begins its descent, painting the sky in hues of orange and purple, the evening meal becomes an event. Some of our favourite local restaurants include:
Currents Restaurant: Enjoy a 90-seat oceanfront restaurant with spectacular views of the open Pacific Ocean. During the summer months, dine on the outdoor patio. Guests are treated to an artisan inspired culinary experience and of course a variety of delicious seafood options including halibut, squid, scallops, and salmon.
Pluvio Restaurant: Celebrate the best local products and natural elements of the area. Chef Warren Barr leads his award-winning team in creating cuisine that features seasonal and wild ingredients foraged from Ucluelet's abundant forests and coastline.
Heartwood Kitchen: Dine in the charming historic Glendale house. With plenty of gluten free and vegetarian options, the Heartwood Kitchen serves seafood delights like mussels, prawn dumplings, oysters, cod cakes, and more.
Night-time Serenity
Finally, as darkness blankets Ucluelet, a peaceful stillness settles. The night isn't silent but filled with nature's lullabies – the rhythmic sound of waves, the rustling of ancient trees, and if you're on the beach, the mesmerizing crackle of a bonfire. The skies, unpolluted by city lights, showcase a galaxy of stars, reminding residents of the vast universe and their cozy corner within it.
The Spirit of Ucluelet: More than Just a Day
Ucluelet, with its meld of tranquility, community spirit, and raw natural beauty, offers more than a place to live; it promises a way of life. From morning coffee and hikes, to delicious restaurants, to kayaking, surfing, nature watching, and community events, Ukee is a small town with a big heart. For those who have experienced it, it's an embrace they never want to break. And for those who haven't? The shores of Ucluelet are always inviting.
Hoping to make Ucluelet "home"? Don't hesitate to contact our team.