The Gray Team will be acting as agent for this property auction with Albert Burney - Luxury Real Estate Auctioneers
Absolute Auction - Selling Regardless of Price!
Silver Horn Lodge and the Lakeside Vacation Home is surrounded by crown land, trees, lakes and fresh air overlooking Big Lake. For sale at Absolute Auction - Selling Regardless of Price!
Just 35 minutes from Williams Lake, on the old legendary Gold Rush Trail, the lodge is the ideal starting position for exciting trips into the outdoors and the Cariboo and Chilcotin area.
Selling in Three Parcels
Parcel #1. Lodge - Rural Zone RL2 and Commercial zone C2 2.31 ha/ 5.7 acres comes with the lodge (6600 sft.), the boathouse, the dock, waterfront 140 m, woodsheet, 2 parking areas, helicopter pad, grandfathered old post office. The lodge is a licensed business and the owners run it as a B&B.
Parcel #2. Vacation Home - Rural Zone (hobby farm) RR2 2.34 ha/ 5.78 acres comes with private home (2000 sft.), carport, waterfront 77 m, parking area, big barn for horses and chicken barn, fenced areas, street access. The house can be used as caretaker home, rental or vacation home.
Parcel #3. Waterfront Lot - Rural Zone (new building lot) RR2 2.92 ha/ 7.2 acres with waterfront 77 m, no buildings, no building code , fenced and cross fenced, Hydro, Telus at property line, perked tested, separate street access.
Great Investment Opportunity! Don't miss out!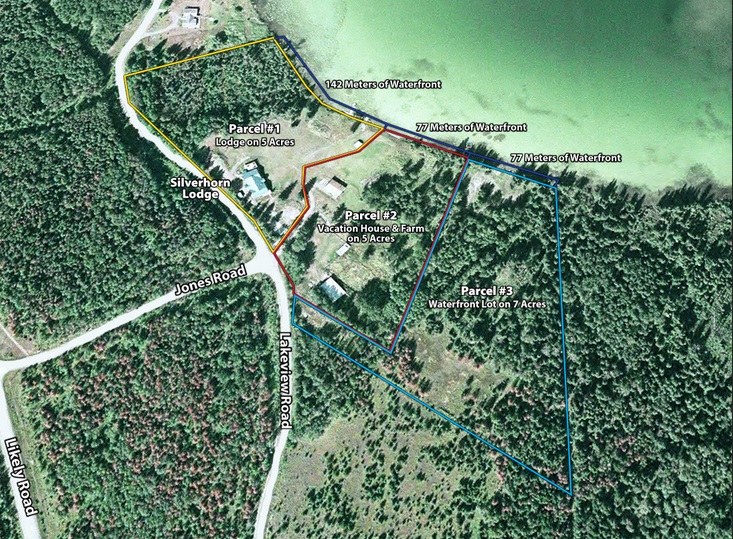 The great surroundings as well as the easy access to the numerous world class rivers and lakes, have captured the hearts of many outdoor enthusiasts. A large number of our guests from all over the world have been amazed to find this great combination of wilderness and civilization.
Click here to view additional photos
Check Back Daily for Additional Information.
Auction Information
PRE-SALE INSPECTION:  An Albert Burney representative will be on site from July 13th through auction day from 10:00 A.M. until 5:00 P.M. For more information call (800) 434-1654.
AUCTION REGISTRATION: Registration begins at 9:00 A.M. on Auction Day. Auction begins at 10:00 A.M.
TERMS: Ten percent (10%) down Auction Day with closing in 30 days. Certified funds in the amount of $25,000.00 for the Lodge (Parcel #1), $15,000.00 for the Vacation Home / Hobby Farm (Parcel #2) and $5,000.00 for Parcel #3 or $50,000.00 for the entirety will be required to bid. The certified funds may be in the form of a Cashier's Check made payable to the bidder, or a personal or company check with a Bank Letter of Guaranty. All funds are required to be in Canadian dollars.
AUCTION FEE: A 10% auction fee will be added to the high bid price to arrive at the contract price paid by the purchaser.
BROKER PARTICIPATION: Broker participation is welcome. Call for guidelines: (800) 434-1654 or (256) 543-1654.
DIRECTIONS TO:
From the South: On Highway 97 N. pass the 150 Mile Centre and head north 1.4 km. Turn right onto Likely Road to Likely/Horsefly. Drive 5 minutes / 4.5 km on Likely Road, than take the left turn onto Likely Road to Likely and Big Lake. Go appr. 25 minutes / 31 km and you reach Big Lake Ranch. Follow the signs SILVER HORN LODGE.
From the North: On Highway 97 S. make a left turn at Mc Leese Lake to Likely/Horsefly toward Beaver Lake Road. After 3.4 km slight right onto Beaver Lake Road (well maintained gravel road). Drive 33.8 km and make a right turn onto Likely Road. After 6.6 km you reach Big Lake Ranch. Follow the signs SILVER HORN LODGE DISCLAIMER: All information is taken from sources believed reliable; however, no guarantee is made by the Auction Company, Broker, or Seller. Buyers should satisfy themselves as to any inspections prior to bidding. Any announcements made the day of the auction supersede all advertising.